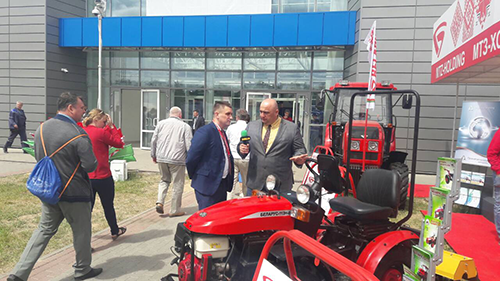 From 5 to 10 June 2018 in the Minsk region, a. Shchomyslitsa, 28, 3rd km from MKAD Minsk-Brest, TLC "Globus Park" was the international specialized exhibition "Belagro-2018".
At the exhibition it was possible to get acquainted with the advanced directions in the development of plant growing, animal husbandry and poultry farming, modern technologies of processing, packaging and storage of products, as well as a variety of agricultural machinery.
This agrarian forum traditionally brings together not only Belarusian agrarians and workers of the food and processing industries, but also their foreign colleagues and partners.
Belarusian and foreign statesmen also saw the exhibition of tractor equipment presented at Belagro-2018.
536 companies from 28 countries took part in the exhibitions: Belarus, Bulgaria, Great Britain, Vietnam, Germany, Denmark, Israel, India, Italy, Kazakhstan, China, Lithuania, Latvia, Netherlands, Pakistan, Poland, Russia, Slovakia, USA, Turkey, Ukraine, Finland, France, Czech Republic, Switzerland, Sweden.
Collective expositions were presented by the Ministry of Agriculture and Food of the Republic of Belarus, the Ministry of Industry, the National Academy of Sciences of Belarus, the Concern "Belgospischeprom", Belcoopsoyuz and other ministries and departments of our country. Separate expositions are enterprises of the Czech Republic, India, Pakistan, Poland.
JSC Smorgon Aggregate Plant also took an active part in this exhibition with the following products:
- tractor "BELARUS-921.3";
- a small-size tractor "BELARUS-152" with loading equipment OP152;
- mini-tractor Belarus-132N;
- Mini tractor Belarus-112N-01 with a tiller FR-00.700-B;
- Beloruss-09N motoblock with a rotary mower KRM-2 ";
- motor cultivator 06МКР.
All those who are in any way in touch with agriculture are interested in what is new in the market and what machine engineers are working on. What new technologies are used today, and what to expect tomorrow. What is still an idea today, and what will we see in the near future in new agricultural machinery.