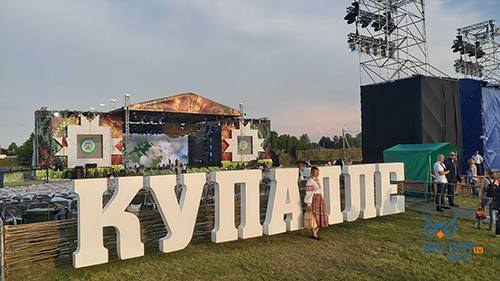 On July 11 and 12, the traditional festival "Kupalye" ("Alexandria Gathers Friends") was held in the agro-town Alexandria of the Shklov District.
OJSC "Smorgon Aggregate Plant" demonstrated at the festival a line of equipment of its own production.
The holiday "Alexandria Gathers Friends" took place for the 11th time on the banks of the Dnieper on the border of the Mogilev and Vitebsk regions. The main celebration of the Belarusian village took place in a warm, soulful atmosphere.
Right at the entrance there is a lineup of eight tractors from OJSC MTZ-holding, as well as mini-tractors and attachments from OJSC Smorgon Aggregate Plant. The exposition of our equipment was of great interest to the guests of the festival. We were mainly interested in technical parameters, distinctive characteristics from analogs of a Chinese manufacturer, price, service.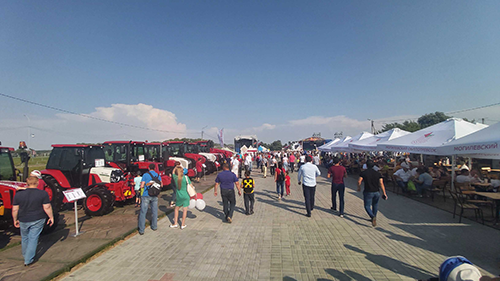 The guests could not only see, but also take a photo while driving a brand new 112Н-01 mini-tractor, and even buy attachments for a walk-behind tractor or a mini-tractor. Also, the sale of souvenirs of the Trade House "BELARUS" brand was organized.
The decoration of the holiday was the performance of the musical group "White Ptah" - a representative of the House of Culture of JSC "Minsk Tractor Plant".
The main program of the republican holiday started closer to the afternoon.
Entertainment in Alexandria everyone could choose to their taste. A variety entertainment program awaited the guests of the festival at the small concert venue, at the Aleksandyiski Kirmash exhibition-fair, shopping lovers could delight themselves with products of Belarusian manufacturers and artisans, and the summer cafes at Aleksandryskaya Gaszina - a rich variety of treats. A play area and a colorful show in the circus tent awaited young visitors.
The culmination of the holiday was a large gala concert "My Alexandria" with the participation of Belarusian, Russian and Ukrainian pop stars.